Following my accident in January 2019, we experienced firsthand what in our eyes is medical fraud perpetrated by a Mazatlan Hospital in cahoots with a US based billing and collections company. While personally I wound up with insurance paying these bills, they are clearly artificially increased to maximize the amount insurance companies and patients pay. Below is my story. I will also share my process of recovery and some thoughts on the medical care in Mazatlan, which was surprisingly good though there were some issues. I still have my fingers crossed that my repair is a good one, as I am almost 12 weeks post surgery and still have not been able to begin PT, and am still reliant on crutches.
Here are the cast of characters:
Sharp Hospital Mazatlán (hospitalization & surgery)
MedX Global (billing collection)
Blue Cross of Idaho (ACA insurance)
Berkshire Hathaway Travel Protection (Travel insurance)
Summary:
If you want to pay the going rate at a hospital in Mazatlán: don't have insurance. "Insurance" is the buzzword that will make your experience very expensive. And by expensive I mean each charge is inflated 6-23x what it should be charged. I note that in working to resolve this that Blue Cross of Idaho was by far the most helpful, but the billing department at Sharp completely ignored my comments/requests, and MedX Global misdirected and failed to follow through on commitments and generally were non-transparent, seeming to be intentionally hiding the truth of their behavior.
The Longgggg Story:
Very early Thursday morning I was mountain biking in Mazatlan with a group of friends and wound up breaking my hip. My friends got me to Sharp Hospital Mazatlan to be cared for. I called my wife and she met me at the hospital.
I arrive at the hospital around 9 AM. When I arrive they take me to a room (this one was referred to as the "Plaster Room") and take some X Rays to see that my hip was pretty messed up.
As I was out of commission they asked my wife if we had insurance, and she gave them our Travel Insurance information which was for a Berkshire Hathaway Exact Care policy (it was good for a maximum of $50K USD). At that time the Hospital administrative person asked my wife if we had any other insurance (I guess this should have been a red flag), and she told them we had a US ACA policy with Blue Cross but that it was US only policy and that they shouldn't use it. My wife was also required to pay $5,000 USD on a Credit Card so that I could be admitted from the Emergency Room to the Hospital.
During this process my wife was never told that there would be a huge difference in billing rates for having insurance versus not.  Nor was she given more than a receipt saying we paid $5,000 USD. It didn't say what it applied to and we just assumed we were cash paying for our care. I guess we should have insisted on an explanation and in writing.
So I get admitted to the Hospital and am put in a nice individual room which given others experience should be around $3,000 MXN Pesos / Day. Eventually the doctors come in (I am being cared for by Dr. Reyes who will be the surgeon and Dr. Torres who speaks English well and will help explain things to me). They tell me that my hip is badly broken and will need surgery. Normally for this type of surgery it really needs to be done shortly after the accident to avoid further complications — I am told that I will have to wait until Saturday morning for surgery.
While awaiting surgery in the room for two days, I get some visitors which was awesome for my spirits, and my wife is able to sleep over each night on the large couch in my room. She also goes downstairs to get the remote for the room TV so we can watch mindless TV for diversion. During this time they also put a harness around my ankle on the bad side and attach a weight to it to help keep the bones in place without my muscles shortening anything. I get permission to have the weight off for one night to help sleep, and am told they will put it back on in the morning, but even after asking, no one put it back on until afternoon.
Finally it is Surgery day. So Saturday late morning I get wheeled down to the operating theater, and stuck in a corner of pre-op to wait. No explanation of how long I will have to wait, but I think it was about an hour. I believe we were waiting for the surgeon, but not 100% sure. I point out to one of the nurses that my hospital wristband has an error on my DOB, but they don't correct it. At around Noon on Saturday I am wheeled into the operating room (over 52 hours after my accident).
To Sharp's credit they have the only operating theater in Mexico which is completely segregated from Public areas so much better cleanliness, and hence no visitors are allowed in pre-op, OR and post-op.
My surgery takes place and I wake up several hours later in post op. After coming out of the general anesthetic no one comes and tells me how my surgery went. As they wheel me up to my room, they lift me off of my bed onto an xray table and back. This is very painful and they are using my leg with the broken hip to lift as well. Eventually I get to my room and assume that I will get  visit shortly from the Doctor to tell me how things went. But it isn't until Sunday roughly 24 hours after surgery that I get an update. It appears that things went well and I am shown the X Ray with a metal plate and a lot of screws.
Later on Sunday I am able to get into the bathroom for a shower in the late afternoon, but I have to stand as there is no shower chair to use. My wife helps me with the shower, and it is great!
I must note that generally the nurses and hospital help were very good and attentive, and I enjoyed trying to speak Spanish with them. Though both in the emergency room and once in the room, they were unable to get an IV needle in successfully for a few tries which was surprising. I also note that hospital help was not always gloved up. Generally while I was in the hospital there was a lack of communication between the different roles: nurses, paramedics, doctors. This lack of communication led to paramedics lifting me by my bad leg and nurses refusing to put the weighted harness back on my leg (prior to surgery).
On Monday I am mostly waiting except that hospital billing (Eduardo) requires my wife to pay another $6,000 USD on a credit card. I am assuming this is keeping up with the hospitalization costs – but again, like the first charge, we only have a receipt that says we paid $6,000 and nothing about how it is to be applied.
Then on Tuesday it looks like I will be allowed to leave. The doctor says I should get an ambulance to get home — so we go that route, and he removes the drain hose from my hip and says I should change my dressing 3 times a week. I believe my ambulance is going to happen shortly from their comments, so my wife returns our TV remote to the desk downstairs where she got it, leaves to go pick up medical equipment for me, and return to our condo to await my arrival. Before I am allowed to leave the hospital Eduardo with hospital billing comes to the room and has me sign a paper that says that I paid $11,000 USD and that they will be billing me in USD — this is overall a surprise. Note that this is significantly after we made both payments totaling $11,000. I ask Eduardo what the total cost will be, if it will be more than the $11,000 and he says he doesn't know but that it will be more, and that I need to call this third party company (in the US!!), Med-X Global, but that I shouldn't call them for 3 weeks. I definitely should have requested and received a better explanation of what the charges were likely to be because I am pretty sure that Eduardo new the rough range, and his and Med-X's role.
So I have little choice but to sign the paper saying that I will work with Med-X to pay my bill, but yet I don't know much about any of this, and as I want to be released, I sign the paper. They supposedly then order an ambulance (Sharp Hospital has their own ambulances which is a feature for a Mazatlan hospital). Over an hour later I am still waiting for an ambulance. And no one has come for an update, finally about another 30 minutes later one of the hospital people comes and I say I am still waiting for an ambulance. They go and get me the paramedics and take me to an ambulance.
So they roll me into the ambulance and we go. I explain to them where we are going, but they have trouble with the address, and I have to point to where we need to go. When we get to our building they unload me and when they get to the elevator they can't get the gurney into it. So to get me upstairs they lift me into/out of a wheelchair, again using my bad leg as well — and yes I am cursing — without letting me use my walker which would have been much better. So, I do get upstairs and they get me into bed- and I am home! Yeah!!
Poor Denise though — she now is my caretaker for the next several months!!
Later that day we notice that the wound is bleeding quite a bit still and we change the dressing. Denise will spend quite a bit of time the next few days going to the farmacias and buying wound care supplies as my dressing will be changed 2-3 times a day for the next few days. I call Dr. Torres and he says just change the dressing.
We now also learn what is really important to the Hospital: the television remote. On the day I arrived home, and the next two days, I received a call from the Hospital asking me to return the TV remote (which my wife had returned to where she was given it). Each we told them it was returned and to where, but they kept calling. You would think they could connect the wires with the desk downstairs, but I guess not. Finally they stopped calling. Maybe they found it – I don't care.
So we get through the next couple of weeks, and I go to the doctors office to have the sutures removed. I am pretty nervous about this so we get someone to help us drive over there, and someone from the language school to help us translate if needed. Everything goes like clockwork, and I return home with another follow up in a few weeks. Primary guidance is "no weight on the left leg"!
I realize now that there is no way I am getting on a plane in mid-March to Idaho as my recovery is slow, so we change our AA flights to May. Denise makes a claim with Berkshire Hathaway for reimbursement of the cost to change (which was a total of $1,000), but Berkshire Hathaway denies the claim. Given the large medical charges we have hanging over us, we elect to not fight the travel change reimbursement, and focus on the medical. It is a bummer though that Berkshire Hathaway won't cover this. Generally it is confusing to understand how to work with Berkshire Hathaway on these claims, which may have been part of the problem.
Meanwhile I call Med-X Global when it has been three weeks, and ask for a bill. Catherina V provides me a bill that simply says you owe $81K! Gasp! She also is pursuing billing our Blue Cross and not our travel insurance as we told Sharp Hospital to do. Likely they target the biggest fish. I tell her to send any billing to Berkshire Hathaway and send her that information. It is clear that the Sharp Hospital Mazatlan – MedX Global partnership is all about bilking insurance companies for as much as they can get.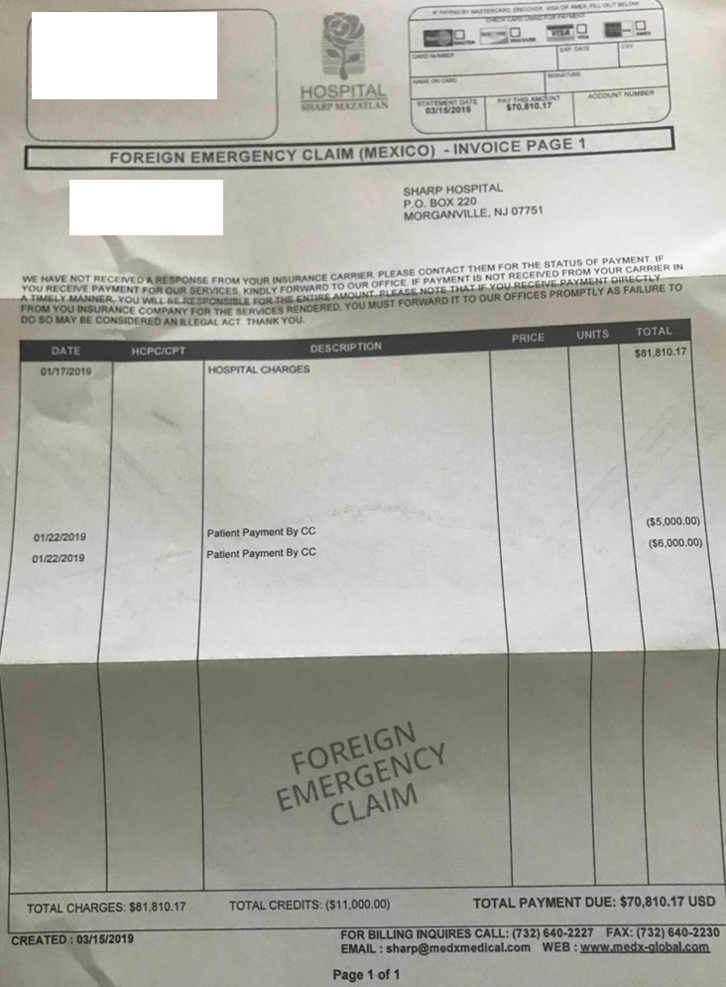 She says I have to request a detailed bill, which over the next several days I request several times, and what I finally get is a copy of a bill to Berkshire Hathaway with the account details blacked out. One line item for "medical services" is $35K and no detail! I later request detail for this line item, but never get it from Med-X. Ever. SO I never got a complete detailed bill.
When I get the "mostly" detailed bill, I compare it with that of a neighbor from the month before who stayed over a few nights at Sharp Hospital Mazatlan. She didn't use insurance and paid a lot less. I have included a table comparing a few charges that were for the same things between the two bills. Note that I am only comparing the non-discounted (since my neighbor got additional discounts as well) pre tax bill.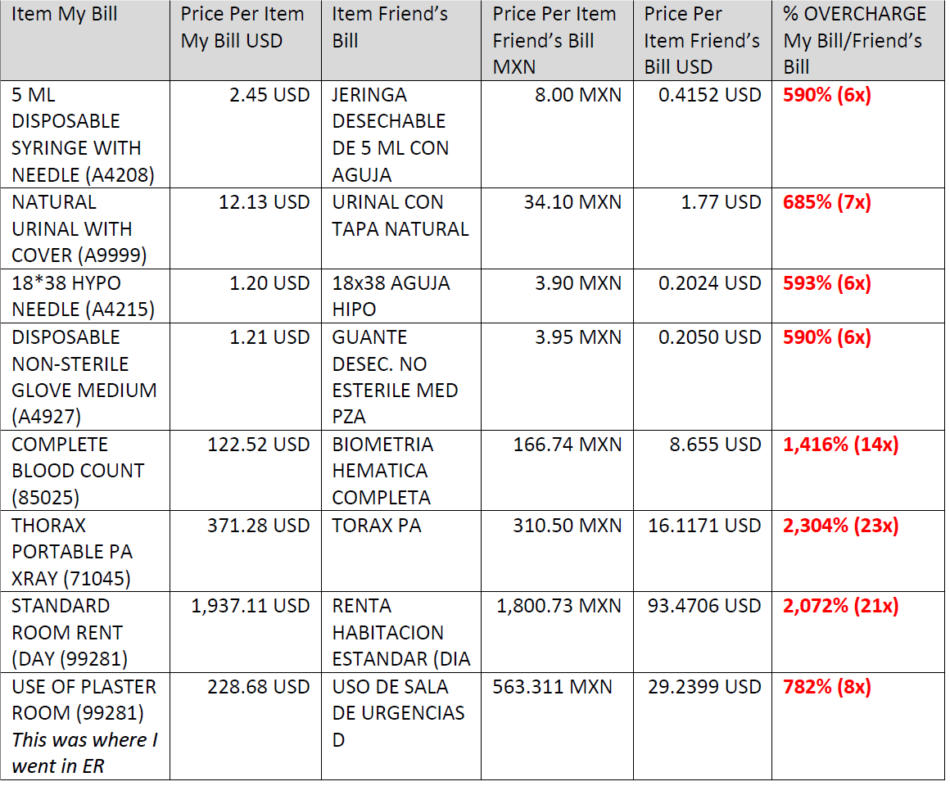 While this was going on, and because of the size of the amount ($81K USD) we contacted both Berkshire Hathaway and Blue Cross Idaho to ask them if they would negotiate these prices with Med-X / Sharp Hospital. Both companies said "No". Which, although a bummer, was not surprising given their relationships (or lack of) to the hospital. BH said they would cover up to my limit (which was $50K), and Blue Cross said this was likely out of network and I would have a $50K USD deductible and I would have to pay an 80% (!!) co-payment. So I realize there will be a large chunk of this that might not get paid by insurance.
I also talked with a few folks who had similar experiences in Mazatlan and was advised to immediately stop payment on the two credit card charges of $5,000 USD and $6,000 USD. I called Citibank and my wife called Capital One, and while they were polite and understanding on the phone, we wound up getting rejected because we had already paid our credit card balance. I even sent the comparison of charges to Citibank, but they said it wasn't sufficient, and that they couldn't do anything because we had already paid our CC bill. My wife had a similar experience with Capital One.
While these other claims and avenues were drying up, I had an email conversation with Catherina V at MedX Global and Eduardo at Hospital Sharp Mazatlan to re-bill my hospital stay without insurance. She ignores my raising the fact that we reasonably believed our $11K payments were cash, non-insurance payments, and that we were also never explained billing options. She ignores this and says we consented to be billed in the manner they did and in USD not MXN because we signed the paper that, as I mentioned earlier, I was required to sign to leave the hospital and that was presented to us days after we had made the $11K in payments to them (and I had to sign while on pain killers). Eduardo at the hospital never responds!
Catherina does volunteer that Hospital Sharp Mazatlan may discount the remaining balance after the insurances pay them, but I get no details or anything in writing.
I also use Google to help me find what the expected US rate would be for my surgery and hospital stay, and though I cannot find anything newer than 2017, guidance was around the $25K-$40K range. So it is clear that the bill I have would be high even the US.
In mid-February I notice a large lump has developed at the surgery site. It is definitely a pronounced bump, and I send pictures to the surgeon, who says I should come in that day to have it looked at. So that afternoon I come in for an X ray, and he says, with some hesitation, that it looks OK, but that I should continue to keep weight off of it for another 4 weeks (until 8 weeks after the surgery). I am relieved that none of the hardware seems to be a problem, but clearly they are nervous. So I continue to keep all weight off, and return two weeks later for a follow-up.
At the follow-up (about 6 weeks after surgery), he points to the new X rays and says that the union is looking good, and that I can begin putting weight on it. There are still some areas of damage that have not healed well, so the guidance is for caution: "It was a complicated fracture", and "Don't fall!!". When I return home, over that next week, I gradually start walking with crutches and putting some weight on the leg. I gradually get up to about 70# of weight on it. And within the next couple of weeks I am walking on crutches in the neighborhood. I am pleasantly surprised how accessible the area around our condo actually is!
It is a huge relief to be on crutches instead of just the walker. Though, the walker is still the best for around the condo as I can more easily carry stuff, and use the bathroom with the walker.
With my new found freedom on the crutches my wife and I are going about Centro for 1-1.5 mile walks. It is freeing to be out, but quite tiring and often painful.
At 9 weeks post surgery I have my next follow-up and I am really hoping I am going to be able to start PT and begin using a cane. In fact I even walked 50 feet or so a few times without aid (hard, painful but doable) right before this visit to be sure I would be ready to demonstrate I could handle walking with just a cane.
When the surgeon sees my latest xray he gives some positive comments about the healing, but seems concerned still. One of the main fractures areas looks less dense on the X ray than before as well, and I cannot tell for sure how worried he is about it.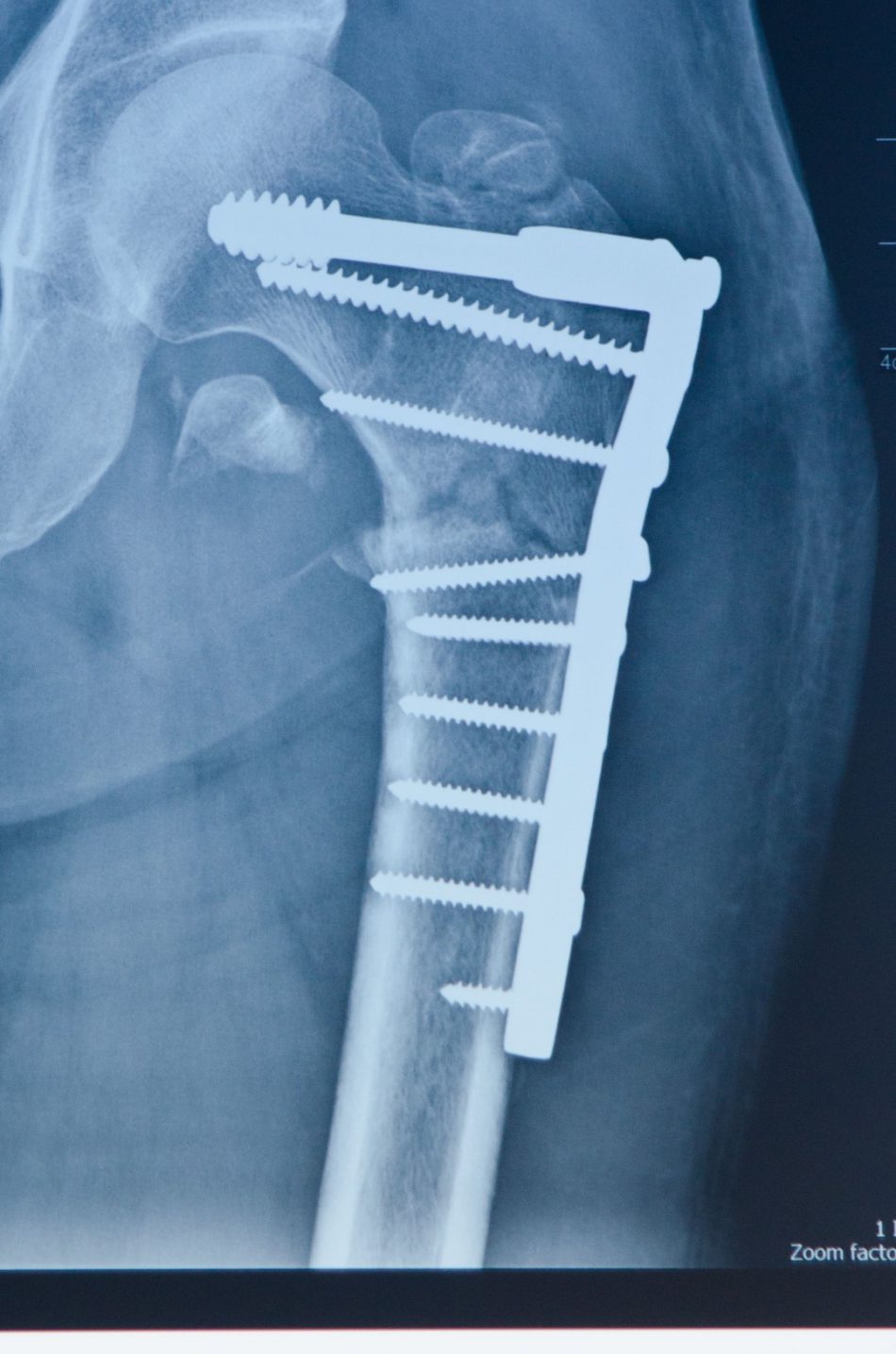 I am told to not start PT and also cautioned that I likely will need wheelchair at the airport in May. My spirits sink.
While I am beginning to get around on crutches we get some very good news (for us): Blue Cross of Idaho is paying the entire bill after we pay our out of pocket max of $7,900 USD. They are paying because it is an out of area emergency which is covered at in network rates!! BC tells us they sent a check (which would go to our US address) so we are nervous about how we get the check into our checking account. While we are stewing on that, I contact Berkshire Hathaway, 3 times in fact, to give them the BC EOB and let them know our claim is now for $7,900 on the medical bill. After the third time reaching out I hear back from Sara our claims adjuster that they will be paying the $7,900 and I should see the funds in our bank account shortly. Fortunately, we also see the BC funds in our checking account instead of receiving a check as well!!
So for us this has turned out well. But, for the insurance companies it was a major rip off. For surgery and hospitalization in Mazatlan they wound up paying more than what those services would be in the US. And it is explicitly a deliberate inflation of fees to those insurance companies, simply because they are there.
I will continue to update my story as my healing continues and the billing saga winds down.